Jilin International Studies University (JISU), founded in 1995, is a key university in Jilin Province. The University was approved by the Ministry of Education as a private teaching organization to offer four-year undergraduate programs in 2003 and obtained the authorization to confer bachelor's degrees and began to run joint master's degree programs in 2005. In 2007 the University became the first and only private university in China at the provincial key university level. In 2010 it became the only university for a pilot study on the national reform of education system "Exploring Non-profit Private Education in China". In 2011, approved by the Academic Degree Committee of the State Council, the University was among the first batch of private colleges and universities to offer graduate professional degree programs. In 2013, the University became the MOE Chairman University for Non-profit Private University Alliance. In 2015, it became the first Chinese private university to set up Confucius Institute in the United States. In 2016, it was the only private university in China selected as the "National Basic Capacity Building Project for Universities in Central and Western China" and in 2017 became the only private university in China as a qualified teaching institution to offer programs to overseas students on "the Chinese Government Scholarship". Now JISU has become an outstanding teaching institution focused on nurturing students' successes in foreign languages and foreign affairs.
JISU is located close to the most beautiful tourist attraction of Changchun City, the Jingyue Lake. The University covers an area of 703,000 square meters and a building area of 310,000 square meters. The surrounding mountains integrate with an on-campus river and the modern Chinese architecture features with stylish Western tradition, highlighting the unity of the environment and the humanities and forming a well-established "garden-style" campus.
JISU currently houses 10211 students, among whom 9903 are full-time undergraduates, 280 postgraduates, 28 from overseas. There are 738 staff members, including 45 foreign teachers from the United States, Canada, Britain, Australia, France, Japan, Germany, Spain, Korea, Russia, Italy, Portugal, Egypt, etc.


JISU boasts 13 teaching units, namely School of Translation and Interpreting, School of English, School of Western Languages, School of Oriental Languages, School of International Economics and Trade, School of International Business Administration, School of Chinese Language and Literature, School of Education, School of International Exchanges, School of General Education, School of ESP English, School of Marxism, and School of Central-Eastern European Languages, offering classes in 13 foreign languages (i.e. English, Japanese, German, French, Korean, Russian, Spanish, Italian, Portuguese, Arabic, Mongolian, Indonesian, and Persian). There are 6 authorized units to confer master degrees on Pedagogy, Translation, Education, Chinese International Education, International Business, Accounting, and 2 China-Foreign Cooperative Education Programs. There are 34 undergraduate majors of five disciplinary areas, Chinese, Economics, Management, Education and Art. The University has followed four cross-disciplinary training models: "Language Major", "Major+ language", "Bilingual Languages " and "Language Minor+ Language Major + Major". The University has national-level programs, an experimental unit for national reform, a National Practical Teaching Demo-center, a National University Students' Off-campus Practice Base and has won a National Teaching Achievement Award. The school boasts six Jilin Province brand majors, accounting for one-third of the total number of all majors, and 2 provincial-level key disciplines. We have 5 research platforms, including Collaborative Innovation Center, Think Tank of Institutions of Higher Education, Provincial Humanities and Social Sciences Research Base , 4 Provincial Talent Training Model Innovation Experimental Areas, 3 provincial experimental teaching demonstration centers, 11 provincial outstanding teaching teams, 6 provincial famous teachers, 19 provincial top-quality courses, and 31 excellent courses at the provincial level.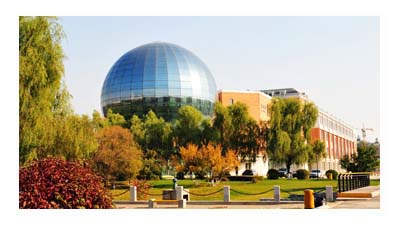 The University actively promotes internationalization, and has been cooperating with 120 universities and educational institutions in 20 countries and regions. The University has obtained admission qualifications to enroll international students on the Chinese Government Scholarship, Jilin Province Government Foreign Student Scholarship, and Confucius Institute Scholarship. In 2015, JISU and the New Jersey City University launched a joint education program through the Confucius Institute. The University also cooperates with the University of Applied Languages in Munich, Germany to implement joint education in German. Each year, more than 600 students are sent abroad for long-term and short-term language and cultural study and exchanges, and participate in the undergraduate duel-degree and postgraduate programs. In certain majors, the proportion of students studying abroad reaches 100%. At present, the University receives about 300 international students each year.
The University is equipped with excellent teaching facilities and has a large-scale comprehensive language practice teaching base, the Global Village. In 2013, the Global Village was designated by the MOE as a national experimental Teaching demo-center and by UNESCO as the World Multicultural Education Center. The University boasts simultaneous interpretation conference halls, digital voice labs, digital recording rooms, a professional simulation laboratory, an automation laboratory, computer labs, multimedia classrooms, university students' entrepreneurship parks, multi-functional lecture halls and well-facilitated sports grounds, gymnasium, indoor swimming pool and other educational and sports facilities. The University library owns 850,000 paper books, 540,000 electronic books, 338 Chinese paper periodicals, 31 foreign periodicals and over 6331 electronic periodicals.
Ever since it was founded, the University has been pursuing non-profit school-running mode for public benefit. It is the first private university in China to firmly put forward the idea of running a school for public welfare without personal reward. It is also the first and only private university to undergo property notarization.
JISU has been adhering to the university mission "all is for students to be integrated, talented and successful, making JISU a bridge between Chinese and Western cultures and a bridge for Chinese students to go to the world", and striving to provide students with the most reliable, responsible and quality education. Under the guidance of the conception that education should live up to parents' trust, students' time, social attention and educators' conscience, JISU insists on meeting market needs with a focus on feature- and brand-building, training students' practical capabilities and strengthening management to keep high quality school-running.
Directed by "character building-oriented education with moral education as its priority", has constructed a "Six in One" working mechanism through close cooperation of Ideological Education Department, Political Education Department and Students' Affairs Department. Through this mechanism, we have realized cross-posts in management, joint meetings, and integration and penetration of work. With its emphasis on students' mental health education, JISU has formed a sound mental health education system through the establishment of students' psychological archives and a three-level management network at university, department and dormitory levels. It also emphasizes the combination of moral, mental and physical education, aiming to promote students' physical and mental health through the development of psychological outward bound training.
JISU emphasizes the integration of knowledge, ability and personality. Aiming at cultivating students' comprehensive qualities, it has formulated and implemented Talent Training Plans for Undergraduate Education Programs, which sets the knowledge, ability and quality objectives throughout the four years. Besides courses for professional training, public compulsory courses have been added to the curriculum including mental health lectures, an introduction to management, and courses on etiquette and public relations etc. In public elective courses, the number and types of humanistic quality courses have been increased, and courses on Chinese culture have been added to cultivate students' patriotism. Moreover, employment education, formative education, moral education, quality education, practical and innovative ability training and mental health education have also been set up.
The University gives full play to the role of the extra-curriculum activities. There are 209 Professional Associations at present and 70 Social Associations at the university level. The University cultivates the students' mental health and personalizes development by organizing students association activities, social practice, various competitions, sports activities, lectures, the International Arts and Culture Festival, youth volunteer activities, activities of "going to the countryside", visiting patriotism education bases, and charity activities.
The University attaches importance to the role of social practice activities in cultivating college students' whole personality, broadening the scope of knowledge, and enhancing students' comprehensive ability. Through formulating and implementing the Practice Teaching Guidance and Extra-curriculum Activity Guidance and the Implementation Rules of the Practices, the social practice of college students has been highly integrated into the education and teaching plan.
The University carries out a comprehensive management mode and advocates the building of an enabling environment for students. The school motto is "vision, pragmatism, aspiration". The teachers' motto is "to be dedicated to education and teach with care and love, profound knowledge and effective instructions". And the students' motto is "to seek truth and new ideas with self-discipline and self-improvement". We constantly carry out and improve systemic management and services in school running. The school has been committed to creating a harmonious cultural environment that inspires students to be simple and practical, and teaches students that grand accomplishments come from each minute detail.
The University continuously strengthens quality education, so that the students' professional ability and comprehensive quality have been significantly improved. In the past three years, our students have participated in various professional competitions, and won a total of 118 national awards, and 307 provincial and municipal-level awards. Courtesy and good manners of respecting teachers and loving students have been well established on campus. A large number of advanced teams and outstanding individuals have emerged, such as "Provincial Outstanding Class", Provincial and Municipal-level Civilized College Students". Students have become more clear-eyed in their life and study goals and an inspiring academic atmosphere has been fostered. They aspire to be proficient foreign language speakers and responsible Chinese citizens.
So far, nearly 20000 students have graduated from JISU. With good proficiency in foreign languages, familiar with management and professional knowledge, as well as equipped with other skills, such as computer literacy and good manners, the graduates are warmly welcomed by employers. The employment rate has been rising year after year. In 2014 the University was selected as an Excellent Unit for Employment of the Province.
The University has received loving care and praise from leaders at all levels. The former vice-chairman of the Standing Committee of the National People's Congress Peng Peiyun, Gu Xiulian, Chairman of the Central Committee of the Democratic Progressive Party Yan Junqi, Vice-Chairman Zhu Yongxin, Minister of Education Chen Baosheng, Secretary of Provincial Party Committee of Jilin Province Bayin Chaolu, former Secretary of Jilin Province Wang Rulin and other state and provincial leaders have successively visited JISU on their inspection tours. The MOE Committee of the Undergraduate Program Accreditation said that "JISU is a high-level private university that has been sticking to its principles with great perseverance. It is undoubtedly the banner of the national private universities." The MOE Committee of the Undergraduate Teaching Audit and Accreditation commented "JISU is a high-level private university with passion, responsibility, contribution, distinctive features and a promising future. It is undoubtedly the banner of the national private universities."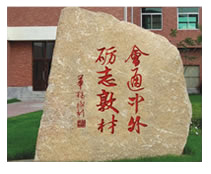 The achievements of the University have been praised and affirmed by people from all walks of life. It has been awarded many honorary titles, such as "the First Top 20 Strong Private Universities in China", "the Top 10 Credit Private Universities in China", "the Top 20 High Quality Private Universities in China", "the Top 50 High-Employment-Rate Universities in China".
In the 2015 ranking of China's private universities by Alumni Association Website, JISU ranked the first among private universities of foreign languages, and ranked among the first-class private universities in China. It was also rated as a private university of foreign languages with the highest level and the strongest comprehensive strength in mainland China. At present, the University is striving to implement a development strategy in expanding features, ensuring quality and widening internationalization in order to build the University into a multi-lingual, multi-disciplinary, and multi-level first-class non-profit private university, focused on foreign languages teaching and coordinated by other disciplines, such as Chinese language and literature, economics, management, education and art and finally into a prominent university of foreign languages that boasts several educational concentrations in China and shares certain international fames in democratization, legalization and internationalization.
We are convinced that under the inspiration of the pioneering and innovative Huaqiao spirit of pursuing vision, pragmatism and aspiration, we will be able to realize the dream of building JISU into a century famous university and make contributions to the development of private colleges and universities in China.